The practitioner of Padahastasana should stand upright first. Slowly moving both hands downwards, the thumbs of both feet should be held. Two distinctions of this asana have been made with the manipulation of hands and feet. While holding the thumb, holding the left toe with the right hand and the right toe with the left hand is also called padahastasana. Similarly, keeping the two feet in place of each other and holding the thumbs in the same way as before, is another type. When this posture is proved, one should try to move the brain between the two knees by touching the nose with the knees. The forehead should be placed at a distance of ten to twelve fingers of the knee. While practicing Padahastasana, it should be kept in mind that both the legs should be straight, the knees should not be crooked. The hands should remain straight as well, while doing the asana, the avidiya bandhan should be applied while shrinking the stomach inwards. This has special benefits.When this sitting is done sitting, it is called Paschimottan.
The practitioner of Padahastasana also tries to make it by making the shape of a standing camel. The special thing in this is to keep both legs slightly spread or open and keep both hands straight at least one or one and a half feet away from the feet, keep the palms high and see the seeker in front. In this way there is great benefit from practicing Padahastasana. It should not be unnecessary to keep the feet straight while practicing Padahastasana. During the practice of posture, the breath should be exhaled while bending. Then, while taking deep breaths, you should bend and breathe as you rise.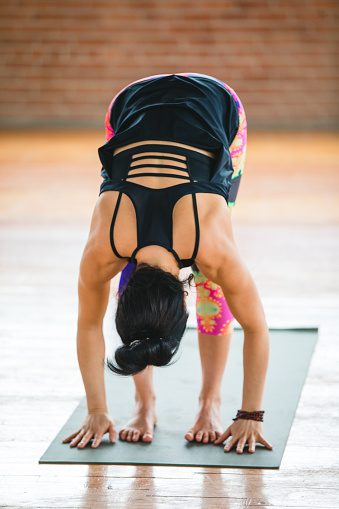 The practice of Padahastasana energizes the muscles of the feet, back and waist. The liver defect is destroyed. Abdominal disorders are removed and intestines are purified. Gastritis causes lightheadedness, good appetite, and indigestion. Spleen disorders disappear, stomach air goes down and clean defecation increases the strength of the spinal cord. This asana reduces fat. Removes obesity, keeps uterus in good condition. It makes the body innocent by providing healing.